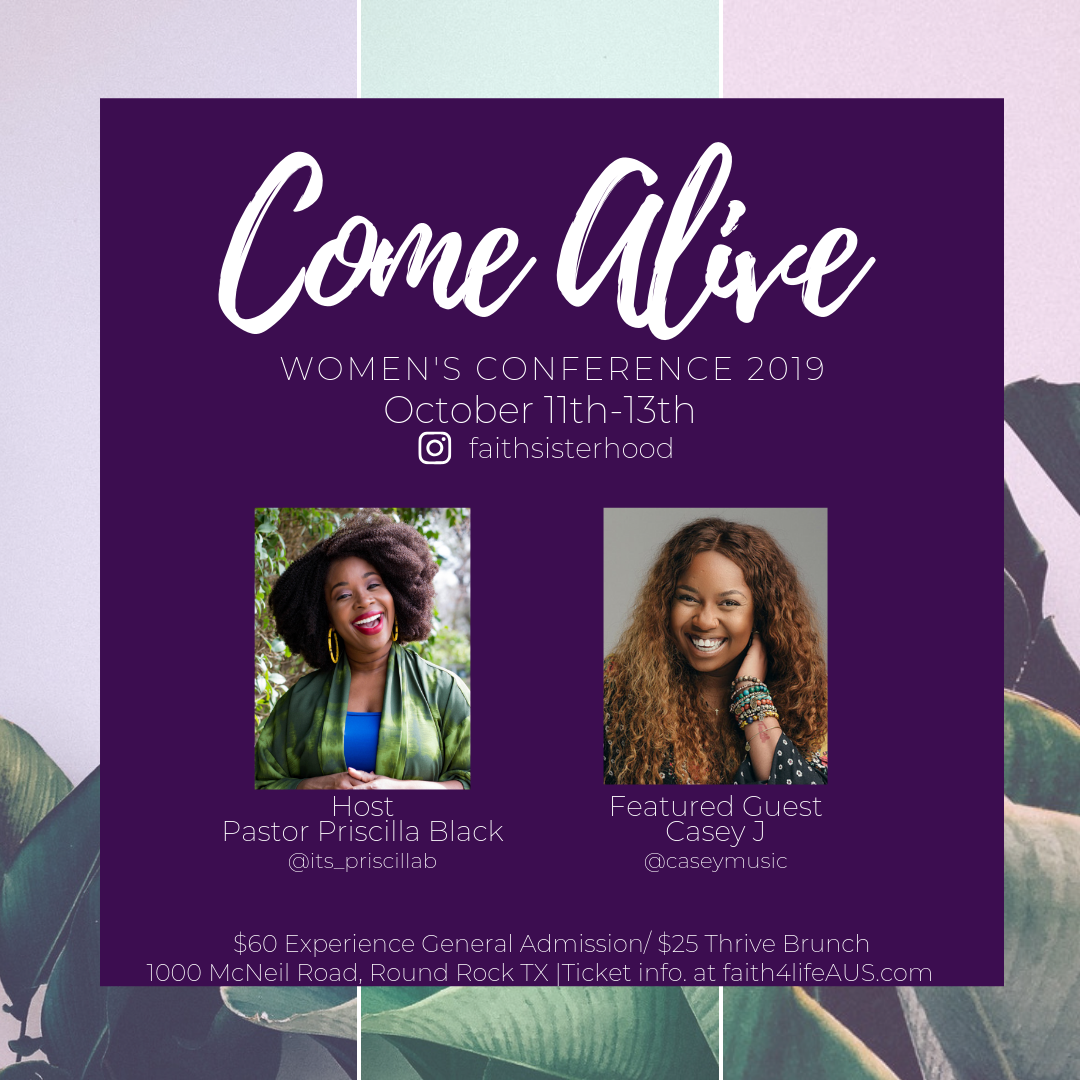 Hosted by Pastor Priscilla Black with featured musical guest, Casey J, Recording Artist and more!
---
CONFERENCE AGENDA
(10/11) DAY ONE: REVIVE
KICKOFF EXPERIENCE (Doors open at 12 noon)
1 PM – Session One: Kickoff Connection
This electric kickoff session will open your heart to the next level God is calling you to. Meet your new sisters and get ready to be revived!
3 PM – Session Two: Heart 2 Heart
An intimate discussion and eye-opening Q&A designed to uncover areas that hinder a revitalized life in God.
7 PM – Revive Night
Powerful music, empowering talk, prayer and more.  The fun and fierce love of God is here for you!

(10/12) DAY TWO: THRIVE
6:30 AM – Move your body!
Rise early to jump start your day with meditation & exercise. You're body will thank you later.
10:00 AM – Brunch & Builders Panel @ The Grove
What dream sits inside of you? Learn the tools and strategies to begin and grow what God has called you to.
– Break –
11:30 AM –  Circle of Influence Panel @ The Grove
Everyone has influence! Learn the best way to manage yours and how to use it purposefully.
12:30 PM – Explore Austin at your leisure!
*Relax * Shop * Play * Eat
6:00 PM – Thrive Night!
The breakthrough continues as we thrive together! This power-packed night will catapult you to your "next."
(10/13) DAY THREE: COME ALIVE!
10:30 AM – Alive Finale
Come alive in an atmosphere of freedom, acceptance and love. Powerful worship and inspiration with your faith sisters by your side.