God says… Daughters Arise! Take your place in me! I am ready to propel you to the next level!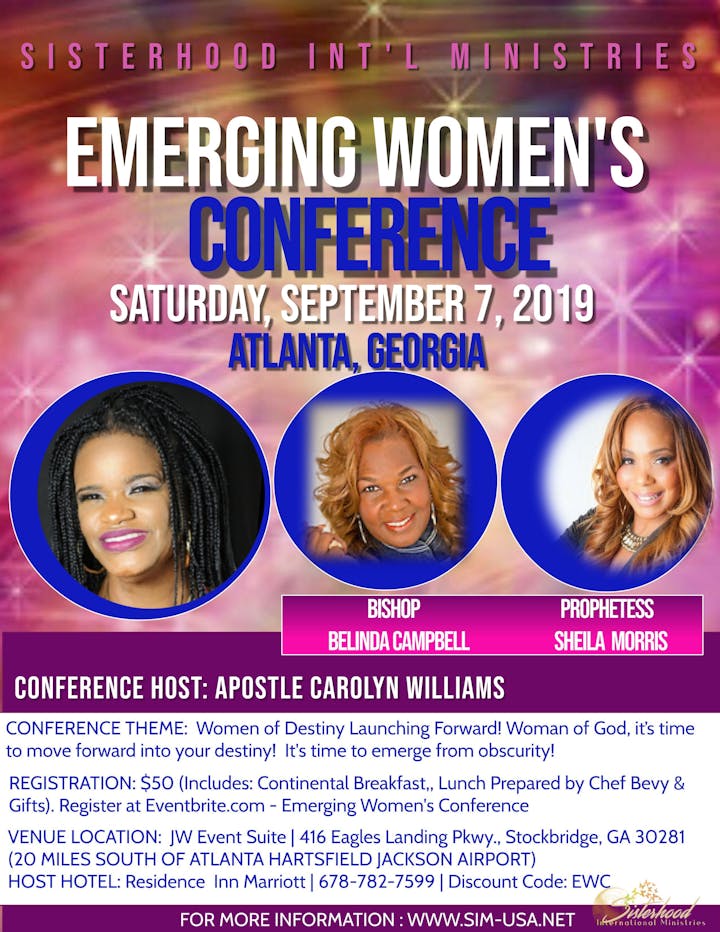 Sisterhood International Ministries is empowering women of God through teaching, mentoring and networking to help them achieve spiritual well-being to become the TOTAL WOMAN God created them to be!
You can expect to hear from dynamic Holy Spirit filled women of God – Bishop Belinda Campbell, Prophetess Sheila Morris, and Apostle/Prophetess Carolyn Williams, TOTAL WOMEN in their own right, who possess the fire of God and passion to help women in their process of becoming the TOTAL WOMAN!
The purpose of the conference is to help LAUNCH women such as yourself to the next level of God's purpose. God is going to pour out His Spirit. We are believing to experience realms of God's glory as never before. Breakthroughs and healings will take place spiritually and naturally. Lives will be changed forever! There will be networking among the women, mentoring, dynamic anointed revelatory teachings, and personal prophetic instructions. Destinies will be launched, hopes and dreams restored!
~REGISTRATION~
REGISTER TODAY! SEATING IS LIMITED!
REGISTRATION INCLUDES:
Continental Breakfast
Lunch Prepared By Chef Bevy
Gifts
REGISTRATION BEGINS AT 9:00 AM EST
CONFERENCE SESSIONS: 3 General Sessions & 1 Breakout Session
~EVENT LOCATION~
JW Event Suite
416 Eagle Landing Pkwy., Stockbridge, GA 30281
(20 miles south of Atlanta Hartsfield Airport)
~AIRPORT~
Atlanta Hartsfield Jackson Airport
(Event location and hotel are 20 miles south of the airport)